After reading an entry on my friend Erin's blog,
Popcorn, Pugs and Peonies
(check it out if you haven't!) I was inspired to write this post. She lives in the Bay Area and often writes about fun things to do in San Francisco. Last month, she did a feature on the famous '
Painted Ladies
' of San Francisco and since Dan and I stopped there when in town, I wanted share it with my readers too.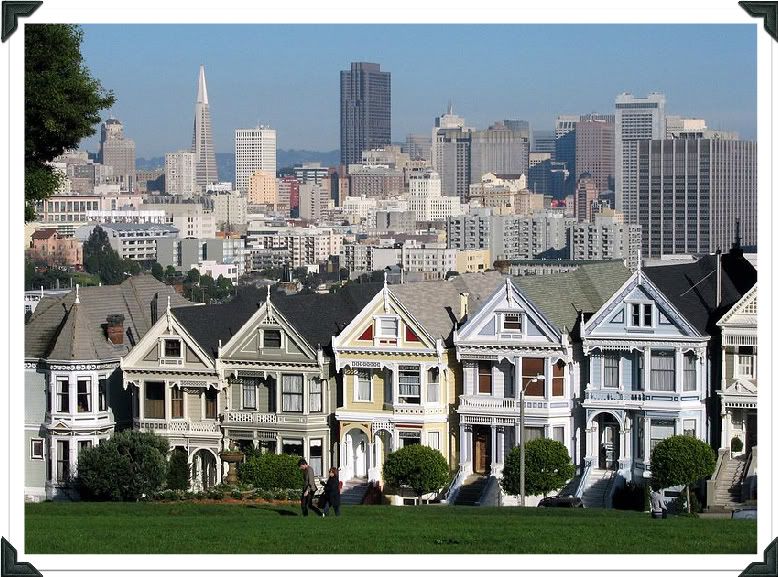 via wikipedia
Even if you're not familiar with the term 'Painted Ladies,' chances are you'd recognize what they are, especially if you have ever seen an episode of
Full House
. The phrase 'Painted Ladies' refers to Victorian and Edwardian houses and buildings, painted in three or more colors that embellish or enhance their architectural details.
One of the best-known groups of 'Painted Ladies' is the row of Victorian houses at 710–720 Steiner Street, across from
Alamo Square Park
in San Franciso. The houses were built between 1892 and 1896 by developer Matthew Kavanaugh, who lived next door in the 1892 mansion at 722 Steiner Street. Since these houses are frequently featured in the foreground of panoramic images of the city's downtown area, the area is sometimes referred to as 'Postcard Row.' I loved that the skyline and Golden Gate Bridge are visible in the distance, creating a dichotomy between old and new.
Many city tours include a visit to the 'Painted Ladies' as part of their itineraries, but buses are not allowed to park, making getting the perfect picture impossible. We weren't satisfied with just a drive-by. So we took the
MUNI
to Alamo Park to spend some quality time with the Ladies where I had some fun with my new camera.
Fancy, huh?
If you're heading out to San Francisco, I highly recommend stopping there for a visit. And hey, if you really like the Ladies, you can always buy one of them. In 2010, the first 'Painted Lady' (on the corner of Steiner and Grove) in 35 years was put up for sale with the very reasonable asking price of $3,999,999. Peanuts!