Being a native New Yorker, I have taken advantage of the endless array of culture at my fingertips. I've been to countless Broadway productions and most of the big museums in the city. However, despite going to college just steps away from both, two places I had never been to were the
Metropolitan Opera
and
Carnegie Hall
. I'm happy to report that within the last week, I have had the pleasure of attending shows at both!
Last Thursday night, Dan and I saw a production of
Macbeth
at the Met. Since I am obsessed with the show
Sleep No More
, we both figured seeing the story unfold in more of a linear fashion could help fill some of the gaps we both have on what actually happens. Taking advantage of a Travelzoo deal, I purchased discount tickets for orchestra seats that included a coupon for a free glass of champagne. Score! The opera itself did not disappoint. The voices coming off the stage were amazing and while minimal, the sets were impressive as well. I was a bit worried that we were so far back, but the way the seats are positioned, and how the stage slopes upward, seeing was not a problem. Much to the relief of Dan, who conveniently left our binoculars sitting on his desk! Having the subtitles in the seat back was extremely helpful for us to follow what was actually being said. All in all, the opera was a really enjoyable experience that I would certainly go back to.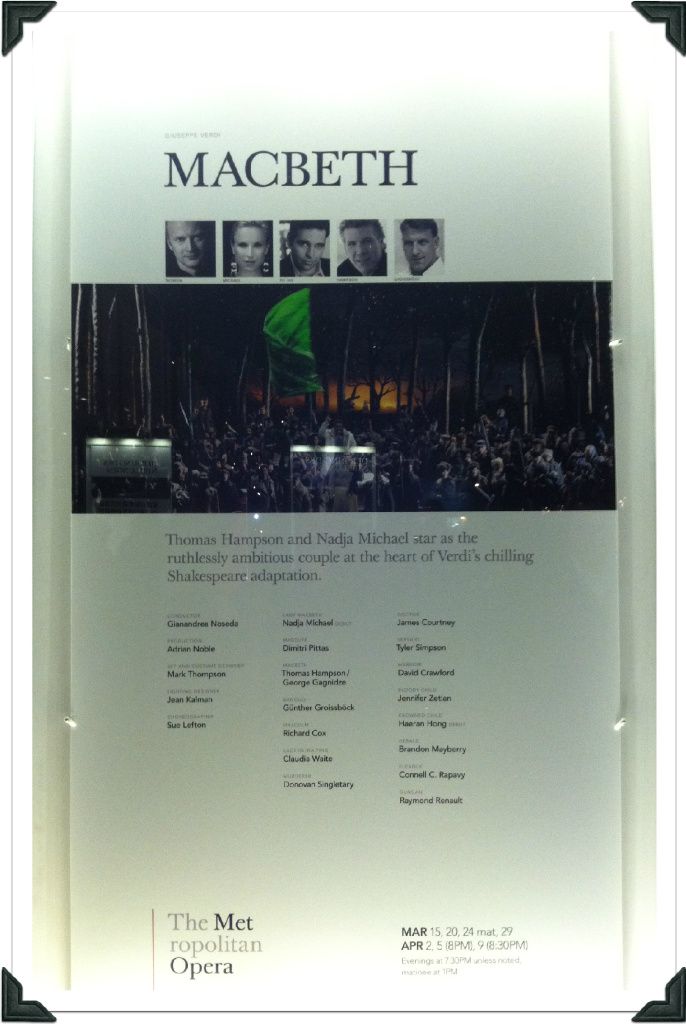 Earlier this week, the president of my company called me into his office to give me his tickets to a performance of
St. Luke's Orchestra
at Carnegie Hall that he could not attend. I'll admit that I had preconceived notions when it came to the opera, but I had no idea what to expect of Carnegie Hall. Walking through the doors for the first time was a little intimidating, but when I saw the understated elegance of the interior, I was quickly put at ease. The usher showed us to our seats - second row, on the floor and I was again blown away. We were SO close to the performers. The acoustics in Carnegie Hall are like none I have ever experienced and the talent on that stage was immeasurable. Hearing the music of Mozart performed live was fantastic and I am so thankful that I was gifted these tickets!